FTTH-Fiber Pedestals- Copper Pedestals-Pedlock Series Pedestals- Cable Stubs-FTTH Closures FTTH Enclosures
.We now accept Visa,Discover Master Card & AMEX
------
To OSP
American Tele Data Tele Data now carries the following FTTH- Fiber-Copper to the Home Products:
For over 30 years, Charles Telecommunications Group has consistently introduced new innovations that shape the network's edge. Today, our Outside Plant and Access/Transmission telecom solutions play a role in the network of every major North American Tele Data RBOC, and the majority of CLEC, ILEC and IOC networks as well.
Charles' reputation for quality products and unparalleled support results from working with customers to create solutions that solve problems and save money. Our goal remains to enable our customers to better serve their customers. Service providers can count on Charles OSP and Access/Transmission products to improve network reliability, lower support costs and provide years of dependable performance.
We now carry the full line of Multilink OSP FTTH Closures- Please send us an email indicating which products you need quotations on and we will gladly fulfill your request. We are working on building the Multilink Product Pages- Thank you For Your Patience.
CNSLL-24&48 Fiber Termination & Splicing Shelf-CON288HD - Fiber Termination Patch Panel
Outside Plant Fiber Enclosures Click Here
Buried distribution pedestals designed for superior OSP protection of fiber optic splice and storage points
--
Pedlock BDO Series Pedestals are a key element of any FTTP solution. In both greenfield and brownfield fiber deployments, BDO Pedestals provide easy access to branch and drop splice while protecting and storing loose buffer tube fiber optic cables. The exclusive BDO bracket allows technicians to mount splice trays and splitters securely with ample access to perform in-field splicing.
BDO Pedestals feature a non-metallic construction that offers super OSP protection against floods, fire, dirt, insects and impact. An expanded-capacity split base is designed to easily install around conduit-fed cable bundles in new construction (excludes 14" diameter pedestals). BDO pedestals are an ideal solution for rehabilitation of metallic enclosures, and protection of co-located copper/fiber distribution points
Part Number -----------------Product Description
BDO 3-EG ---------6" pedestal, split base, G bracket (fiber only), bond bar
BDO 4-EG ---------8" pedestal, split base, G bracket (fiber only), bond bar
BDO 5-EG --------10" pedestal, split base, G bracket (fiber only), bond bar
BDO 5-EB --------10" pedestal, split base, B bracket (fiber/copper), bond bar
BDO 7-OB--------14" pedestal, round base, B bracket (fiber/copper), bond bar
Copper Pedestals & EnclosuresClick

Fiber Pedestals & EnclosuresClick

Multi-Purpose / Co-Location HousingsClick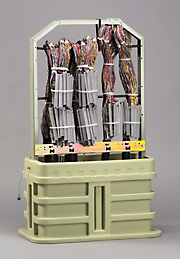 Line Conditioning / Load CoilsClick

Cable StubsClick

Riser Pipes and Wire GuardsClick
Broadband MultiplexersClick

DSL SystemsClick

T1 Channel BanksClick
Channel Banks
360-80 Intelligent Channel Bank (ICB)
360/363 Series T1 Channel Banks
D424/D448 Series T1 Channel Banks
VF Products
SurePath™ Automatic Protection Products

T1 Span Termination / Mini-RepeatersClick
T1
T1 Span Termination System (STS)
Span Termination System
STS Shelves
T1 Mini Repeaters & Plug-in Units
CiAC239A - Sealed T1 Mini Repeaters
CS239 Series T1 Mini-Span Line Repeaters
621155 and 621156 Type 239 Line Repeaters

Digital Pair-Gain SystemsClick
-----
2:1 DuaLine Digital Pair Gain System
4:1 QuadPOTS Digital Pair Gain System
8:1 Digital Pair Gain System
12:1 Digital Pair Gain System

Transmission and Signaling ProductsClick
--------

Charles Fiber Pedestals & EnclosuresClick
PEDLOCK® BDO Series Pedestals
---